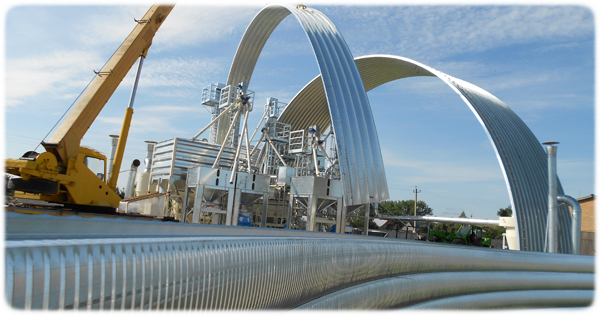 The principle of the technology is the lack of backbone in the constructed buildings. Arched shell buildings - Self-supporting and light metal construction. It does not require massive deep foundations and load-bearing skeletons (columns, trusses, beams). The foundation for the arch frameless designs can be belt or screw piles.
Cold-arched arched elements are made of rolled galvanized steel directly on the construction site section bending machine. With canning machine arcs together in section 5 pieces sealed seams. This technology creates a complete watertightness seaming structure (principle tin) and eliminates the need for fasteners used in frame technology. The sections are then mounted onto the prepared foundation and rolled together.
 
The process of manufacturing and assembly is not difficult with a special forming machine.
It consists of several stages.
Step 1. Development of the site and preparation of the ground (basement)
Step 2. Mobilization of equipment and materials - galvanized strip in compact rolls directly on the construction site.
Step 3. The process of profiling strip to the desired profile
Step 4. Bending profile corrugated arch. 
Step 5. The compound curved arches in blocks using a canning machine. 
Step 6. Installation of arch blocks on the prepared foundation. 
Step 7. Installation of the end walls. 
Step 8.  Installation of gates, doors and windows. 

On the whole process for the hangar area on the floor of 1 000 sq.m. It takes 20-25 days (cold performance).
Although the process of mounting frameless hangar is not as complicated to produce it should be specialists, trained on the profile-machine and master the technology construction.
Installers BRiS-Stroymontazh guarantee the fulfillment of all the work with the highest quality in the shortest possible time.