Advantages of frameless construction

Frameless hangars attracted great attention both entrepreneurs and large enterprises of Kazakhstan, due to a number of their existing advantages. Each of them deserves a separate detailed consideration.
---
Price
Frameless hangars
-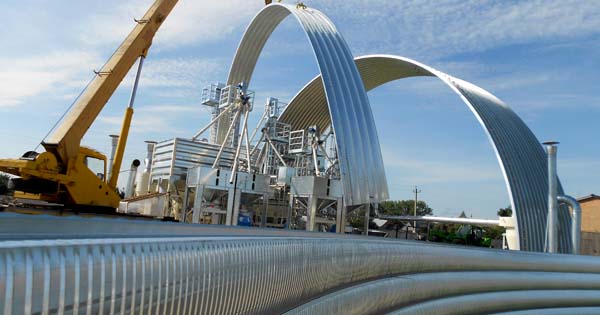 the most economical and fabricated views as it does not require the construction of large-capacity columns, beams and girders, has a simple structure of arched panels, elements of which have a relatively low weight. All of this can significantly reduce the cost of foundation and the effective use of consumables. Given all of the above, we can see in the fact that the cost of frameless hangars 1.5 - 2 times lower than the cost of the hangar with a carcass basis.
Listed in the price «BRIS-Stroymontazh» cost hangars is only 12 000 n / m. This price is the lowest among the competition.
---
Dates
With the construction of hangars frameless «BRIS-Stroymontazh», does not require the presence of a large number of workers and the use of heavy equipment. Unlike other types of hangars, in this case there is no need for work on the construction of metal poles and pouring strong foundation. Construction of arch buildings 1,000 m² will take no more than 5-6 weeks, which will accelerate the payback time of the construction costs. This fact should be taken into account in the development of the financial entrepreneurs plan to build a hangar for commercial purposes.
---
Quality
For the production hangars used Russian equipment that has passed all necessary tests and quality checks.
After the erection of the building is required to be issued specifications, quality certificates for all materials used. Arched hangars frameless, constructed by «BRIS-Stroymontazh" in Shymkent, versatile and ideal for use in a sharply-continental climatic conditions of Kazakhstan:
maximum permissible mass of snow cover - 180 kg / m²;
the maximum allowable wind speed - 200 km / h;
amplitude operating temperature - from +50 ° C to - 50 ° C;
earthquake resistance - up to 9 points;
life objects - more than 50 years.
---
Practicality
Angara company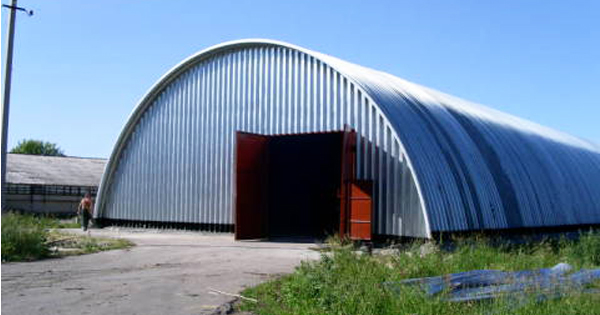 «BRIS-Stroymontazh»
during its short period of operation remain aesthetic and presentable even in the absence of a common external and internal finishing. This advantage is achieved by the use of steel with a galvanized coating in the manufacture of hangars.
Frameless arched structures, built by our company, easily fitted with various kinds of engineering networks: lighting, ventilation, heating, water, etc.
Frameless buildings, despite its apparent simplicity, meet all the required standards of quality and are full-fledged objects of social, commercial, industrial and agricultural purposes.
---
Economical
Considering the "classic" structure, it can be seen that the upper corners of the building have absolutely no actual use, why have zero utility. Arched design is not only economical, but also functional - they do not have such useless corners, and thus for the air-conditioning or heating excess space customer does not pay.
This, at first glance, a slight difference can save up to 30% of heating and ventilation of the room.